Tailored insurance advice for small businesses.
We'll find you the right insurance cover for your business.
What Insurance Do You Need?
What type of insurance are you looking for?
Our insurance brokers are here to help you find the right cover.
Why you should speak to a Webber Insurance broker?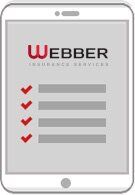 Small Business Expert
We are passionate about finding small businesses (like us) find the right insurance.
Fast, Personalised Service
Speak to one of our qualified insurance brokers who can give you personalised advice.
We Work for YOU, not the insurer
Our job is to find you the right insurance cover alternatives for you and your business.
Why choose Webber Insurance?
See what our clients are saying about us…
We will source you the most competitive and comprehensive insurance for your business.
Complete the quick quote form to get your insurance quote.
Get a Quick Insurance Quote
Award Winning Insurance Brokers
We're here to provide insurance tailored to your individual requirements
When Australian businesses have complex insurance to sort out, they call US.  
As a business owner, we understand that it can be difficult to know where to start with your insurance. It can be difficult to get access to quality advice and products. Our focus is to simplify the insurance process and guide you along your insurance journey.
We specialise in complicated, hard to place or misunderstood insurance and will always provide quality advice tailored to your business. With access to hundreds of different insurance policies, both local and overseas, our team can find the ideal insurance policy tailored to your individual requirements.
Whether you are a consultant, contractor, professional or service provider – no situation is too difficult, too small or too large for our team to handle.
And the best part? We make it as easy as possible for you with a process that is entirely electronic with extremely fast turnaround times, see why we've been voted an Elite Insurance Broker for 5 years running.
Our Insurer Partners