Tailored insurance advice for small businesses.
We'll find you the right insurance cover for your business.
What Insurance Do You Need?
What type of insurance are you looking for?
Our insurance brokers are here to help you find the right cover.
Why you should speak to a Webber Insurance broker?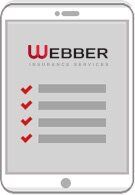 Small Business Expert
We are passionate about finding small businesses (like us) find the right insurance.
Fast, Personalised Service
Speak to one of our qualified insurance brokers who can give you personalised advice.
We Work for YOU, not the insurer
Our job is to find you the right insurance cover alternatives for you and your business.
Why choose Webber Insurance?
See what our clients are saying about us…
We will source you the most competitive and comprehensive insurance for your business.
Complete the quick quote form to get your insurance quote.
Get a Quick Insurance Quote
Our Insurer Partners